Join the Team
If you're a team player looking to grow your professional skills (and know a good joke or two), check out our current openings below.
Our core values

Continuous Improvement
We believe our work is never done and adapting to change isn't a "nice-to-have", it's a "must have". We know we can always build better platforms, provide better service, and be better humans. Commitment to growth and challenging the status-quo is our DNA.

Chasing Perfection
Without a passion for perfection, our purpose would be without a canvas. We chase perfection even if unobtainable because the pursuit itself is why we do what we do. The moment we become satisfied is the moment we know it's time to move.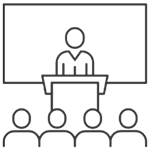 People Incubation
People inherently want to do great things – when given the space to create. We work to provide a balanced environment that embodies autonomy to drive in your own lane and intersections of collaboration. We are, after all, in this together.
Perks and Benefits

Free Parking

401k Matching

Comprehensive Medical Benefits

Life Insurance Benefits

Unlimited Paid Time Off

Team Building Activities

Thought Leadership Program

Home Buying Assistance

Professional Development Reimbursement